Standard rooms, with simple and functional complete furnishings. From all the rooms it is possible to admire the panorama of the garden below and the valley.
Some elements cannot be sanitized therefore you will hardly see them again on your holidays, at least until there is a vaccine. Maybe there will be some atmosphere, but this does not exclude that the rooms will be welcoming and that you will not be able to enjoy the silence and relaxation.
The rooms have always been and will be even more so, simple and essential, decorative rugs and / or cushions have disappeared.
During your stay you will decide whether to request a cleaning service or not, possibly to prevent other people from entering the room.
Services included: sheets and towels, free wi-fi, central heating
---
The dining room for the guests: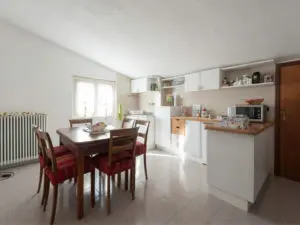 All rooms have access to the common dining room where there are dishes and a refrigerator available for any guests' needs. It is possible to ask the owners to prepare extra meals, in addition to breakfast, as well as packed lunches for excursions or a picnic basket with some local specialties or fresh and light dishes, easy to carry
---
The main entrance is divided to enter the P / T, where Valeria and Giorgio, the owners, and the R&B located at the P / 1 reside. Here are the 3 simple, spacious and comfortable bedrooms, a large common dining room and the complete bathrooms which are external to the rooms but immediately next to them.
DURING THE WINTER SEASON BOOKINGS ARE ACCEPTED ONLY WITH 48H MINIMUM OF ADVANCE COMPARED TO CHECK-IN and FOR MINIMUM 2 NIGHTS or FOR 1 NIGHT BUT MINIMUM 2 ROOMS
On the semi-basement floor there is a storage area for overnight bikes and / or motorcycles and a small mechanical workshop that is managed by the owner.
In the space in front of the house there is a free private parking available for guests only and an outdoor area for barbecues and outdoor dining. With Giorgio and Valeria live four splendid cats that are free to move outside as well therefore the presence of any pets must be agreed upon booking.
Inside and outside the house (the woods are too close therefore the risk of fire is very high) smoking is prohibited. The main towns, with museums, shops, cinemas, supermarkets, etc. are between 5 and 12 km max.
Giorgio Genovese, MTB Guide, is available for accompanying services for MTB excursions
It's possible also ask for:
Terms and conditions:
At check-in we ask for the balance of the stay and accept payments by debit card, Cartasi credit card, Visa or Mastercard or cash. Any extras will be paid the night before check-out.
For the deposit we accept payments by bank transfer, Paypal or, by communicating the number and expiration of the credit card, we can charge by remote POS. We do not accept payment by checks.
Discounted rates are available for multi-day stays and / or non-refundable rates that provide attractive additional discounts. The link to view all the promotions is http://bit.ly/BookDirectTolasudolsa
For any occupation of the structure by a large family, we recommend contacting a personalized quote.
On the standard rates we ask for a deposit, to guarantee the reservation, equal to about 50% of the total amount of the stay. The final confirmation of the booking will take place upon receipt of the deposit.
The deposit will not be refundable but may eventually be used later (within max 2 months) in case of non-arrival due to force majeure.
DURING THE WINTER SEASON BOOKINGS ARE ACCEPTED ONLY WITH 48H MINIMUM OF ADVANCE COMPARED TO CHECK-IN and FOR MINIMUM 2 NIGHTS or FOR 1 NIGHT BUT MINIMUM 2 ROOMS
---
---
---
The Extra services that we offer: