Hallo Friends mtbikers, indifferently in week-end and/or during the working days, We organize guided muscolar mountin bike and/or e-bike excursions called "Ride & Eat"
The event is a trip and therefore we will proceed at a sustainable mood for everyone. The route will not be marked as it will be accompanied by Giorgio Genovese, mtb guide. Open to all those who habitually practice Mountain Bike with their bikes!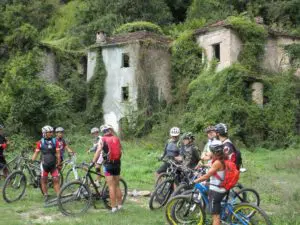 The mtb routes proposed for "Ride & Eat" can vary (also depending on the weather, the participants and their vehicles) between 18 and 30 km, with a difference in height between 900 and 1200 meters.
All the tracks do not present particular difficulties and are very varied in terms of terrain. Ups and downs of different lengths and gradients, finally lead to the total height difference of the tour while remaining fairly high. However, the possibility of varying the route during construction makes the routes feasible for all mtbikers with a little experience.
In order to participate in the excursion it is required:
Own bicycle: Mountain Bike in a good state of maintenance, preferably with double suspension.
Clothing: Helmet (mandatory), gloves, windproof and / or water resistant jacket and footwear, all suitable for the current season.
Equipment: inner tube, water bottle, pump and basic tools. Dedicated spare dropout and dummy link are recommended.
disposable gloves and mask for personal use, especially necessary in case of stops along the route and / or where it is not possible to maintain the distance of about 1m (mandatory practice during the period of coexistence with COVID-19).
The rest is left to personal preference. Over 16s can participate only if accompanied by a parent who will follow the minor / s even during the outings.
Excursion cost:
€ 20 including pasta party – bike washing, small workshop, outdoor shower if the weather permits and use of the toilets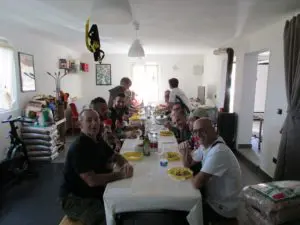 The completion of a self-certification relating to the state of health may be required.
It is advisable to make an appointment with a minimum of 2 days notice by confirming participation via: Valeria mobile or whatsApp +39.3312946881 or Giorgio mobile +39.3355939936 or by e-mail [email protected]
Open to all! for those who are not registered or do not have their own accident insurance, TOLASUDOLSA R&B and the MTB Guide Giorgio Genovese recommend sports insurance for all sports, which can also be activated only for the day of the excursion or sporting event (any) via App and text messages from your mobile phone with a minimum cost. To ask for a quote